CPS - Who are we?
13th August 2020
"Have you ever been affected by hate crime? Ever wondered about why some HATE CRIMES make it to court and some don't? Do you want to know what the Crown Prosecution Service actually does?
The Crown Prosecution Service (CPS) are holding an online Q+A / Who We Are session on Tuesday 18th August 5:30 – 6:30pm. They would love you to dial in and be part of it. Contact Andrew Allison on 07384 797779 or Andrew.Allison@darlington.gov.uk to book a place.
If you'd rather e-mail your question and get it answered without taking part, you can do that too! Just let DAD know your question and we'll get the answer for you."
Have you been in hospital recently?
03rd August 2020
Tell us your views
During the coronavirus pandemic the usual processes hospitals follow to discharge you from their care changed to help free up beds.
While these changes have successfully got people out of hospital and helped the NHS manage the demand created by coronavirus, we want to know what this has meant for you.
To find out more about people's experiences of health and care during COVID-19, we recently launched our campaign #BecauseWeAllCare to encourage people to share their experiences of health and social care services in Darlington.
By telling us about your experiences of leaving hospital we can help services in Darlington improve the care they provide now, and in the future.
Share your views today in our short, confidential survey.
Share your experience
https://www.healthwatch.co.uk/tell-us-about-your-experience-leaving-hospital-during-covid-19-pandemic
If you or family have not recently been in hospital, please share this email with your friends, neighbours and networks so we can hear from more people about their experiences of care.
If you have any questions about this survey or our work please email info@healthwatchdalrington.co.uk to ensure this is picked up by the relevant staff members who will be able to help.
Covid19 Testing
26th May 2020
Testing is now open to any member of the public with Covid 19 symptoms by visiting nhs.uk/coronavirus or calling 119 to book a test.
Covid 19 Mobile Testing
28th April 2020
The Mobile Testing Unit will be back at Teesside Park from 2nd – 4th May so this can be used to book staff testing.
Update - testing for PAs and PHB holders
27th March 2020
The latest update from the Department of Health and Social Care is as follows:
All PAs are now able to receive a test, symptomatic or asymptomatic – as essential, frontline workers. The test is most effective in the first three days of infection (but can still be effective up to five days). So practically, any PA who is symptomatic, should get tested as soon as possible and any PA who is asymptomatic (but thinks they may have been exposed recently) can also now access testing. As before, PAs can either self-register, or be referred by their employer, with availability for both home-delivered tests, and drive-through testing.
All patients in the NHS, and residents in care homes can now access tests, symptomatic or asymptomatic. It has also been agreed that 'patients' extends to individuals with personal health budgets in place. Therefore, any personal health budget holders with concerns that they may have Covid-19 / been exposed to Covid-19, can now access these tests (via self-referral).
Individuals with just a personal budget in place, who don't have either a) a personal health budget, or b) a health condition that would constitute them being a 'patient', are not eligible to access these tests yet… unless they are over 65 and have symptoms, or are required to go into work because they cannot work from home, and have symptoms.
Message from Lauren
26th March 2020
Message from Lauren
Very proud of all our Key Workers at DAD! Thank you! Lauren Robinson, DAD Chief Executive
Direct Payment Support Service Vacancies page update
24th May 2019
See the update Direct Payment Support Service Vacancies.
Mayor's Ball
01st May 2019
DAD Young Leaders supporting and rocking the Mayor's Ball with The Mayor, Cllr Veronica Copeland. One of the final events to mark the Mayor's year in office and add to the amazing fundraising for the three charities DAD, The British Legion and The 700 Club. Many thanks to Barcays Bank for match funding the funds raised from the Ball.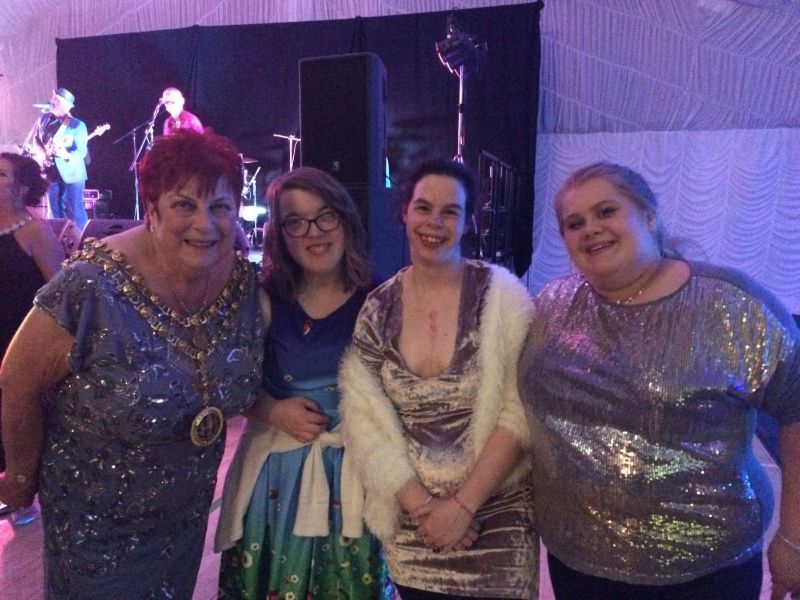 Visit to Town Hall
09th April 2019
Young People from DAD enjoyed a visit to Darlington Town Hall last week after being invited to visit by Darlington Mayor, Councillor Veronica Copeland.
The Mayor gave a tour of the Mayor's Parlour and talked to young people about the role of the Mayor and local disability history with the opportunity for young people to ask the Mayor questions.
They all really enjoyed the evening and thank the Mayor for inviting them.
DAD invited to the opening of the new B&M Store in Darlington
03rd September 2018
As part of the opening celebrations, Darlington Association on Disability were invited along as VIP guests for the day and to open the new store.
In addition to opening the store, DAD also received £250 worth of B&M vouchers as a thank you for taking part and for all our work in the local area.
A big thank you to B&M for inviting us to be part of your opening celebrations and for the vouchers!