IMPACT: IMProving Adult Care Together
10th June 2021
IMPACT stands for 'Improving Adult Care Together'. It is a new £15 million UK centre for implementing evidence in adult social care, funded by the Economic and Social Research Council (ESRC), part of UK Research and Innovation, and the Health Foundation. It will be led by Professor Jon Glasby at the University of Birmingham, with a Leadership Team of 12 other academics, people using social care services, and policy and practice partners - along with a broader consortium of key stakeholders from across the sector and across the four nations of the UK.
What is IMPACT trying to achieve? In the words of one of the people using services who has helped to shape proposals for the new centre, IMPACT believes that "good support isn't just about 'services' – it's about having a life."
IMPACT are interested in hearing from everyone who is involved with adult social care in whatever capacity.
Please complete this survey: https://bham.qualtrics.com/jfe/form/SV_9tnuKolsBb3OfGu
This is the English version. Translations to Bengali, Gujarat, Polish, Punjabi, Urdu and Welsh will follow. We will also launch an easy read version later in the month.
IMPACT have recently launched our website https://more.bham.ac.uk/impact/ which will enable you to keep up-to-date with our activities as these progress. We will start to update this over the coming weeks.
Do you care for a child with a neurodevelopment need?
07th June 2021
If you live in Darlington, Middlesbrough or Redcar and Cleveland, Contact's Listening Ear Service can provide free emotional support, practical advice or strategies to help you cope.
You can book a telephone appointment with a family support advisor using this link contact-tees@eventbrite.co.uk
Find out more by emailing south.tees@contact.org.uk or phoning their free phone number 0800 2540890
GIVE THEM WINGS The Autobiography of Paul Hodgson
13th May 2021
Paul is someone who has been involved with DAD for some years. Paul has written an autobiography 'GIVE THEM WINGS'
Disabled as a result of childhood meningitis, Paul Hodgson has written this autobiography in order to challenge the stereotype of the wheelchair-bound victim.
Far from being a passive spectator, we learn how Paul struggled to care for his mother through several strokes and Alzheimer's disease and of the rift this caused within his family. He also speaks of the Community Care system, his experiences of education and employment, and the loyalty of his friends.
This is his account of life as a fan of Darlington Football Club which reveals another side to Paul's nature, with its fascinating compendium of mishaps and drink-fuelled escapades, which are invariably laced with his own brand of black humour.
Give Them Wings is a graphic story of one man's fortitude in the face of severe odds, it offers a unique insight into what it means to be disabled in modern society.
Also, please see below the link to Amazon in order to buy the book.
https://www.amazon.co.uk/Give-Them-Wings-Autobiography-Hodgson/dp/1782816216/ref=sr_1_1?dchild=1&keywords=give+them+wings&qid=1620825441&sr=8-1
Ties in with a blockbuster film of his life, Give Them Wings due to be released in summer 2021.
Directed by Sean Cronin, who has appeared in Harry Potter and Bond movies, the film stars Daniel Watson (as Paul) andEighties punk singer Toyah Willcox.
Give Them Wings won the 'Best Feature' at The London Independent Film Festival. Below is a link to the film trailer
https://www.youtube.com/watch?fbclid=IwAR23izLTak4EMljSU_eBRE-0rLrQP12X759mJPBDzCqvemafo9pA2Ms_dZQ&v=0zG5vUbyYMc&feature=youtu.be
Forewords by former Darlington FC forward Mark Forster and Aston Villa legend Brian Little.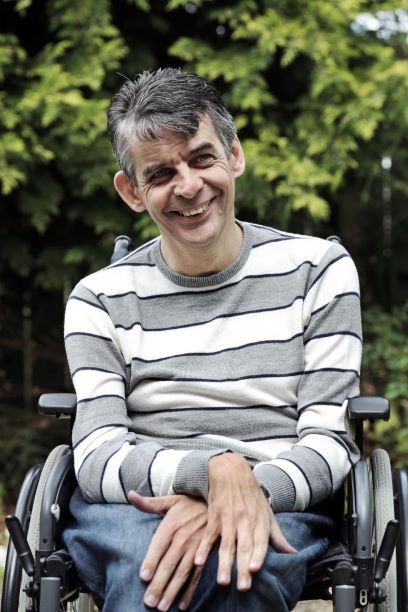 Positive Travel Project
10th May 2021
Positive Travel Project
DAD's Positive Travel Project, funded by London North Eastern Railway (LNER), will support disabled people and carers of all ages to tackle the barriers they face in accessing transport and travel. The project will offer a range of options including;
Travel training for those who have never used public transport due to their impairments, lack of confidence, skills etc. This will include accessing all forms of public transport including introducing non rail users to the rail network for the first time. Individuals would be supported for 6- 12 sessions to learn the skills needed to access public transport such as journey planning, booking tickets or taxi's, safe routes to transport, booking and using support. These sessions will be bespoke to meet individual needs and tailored to their communications need.
Improving access to a range of social activities for disabled people who are isolated and have not been able to get out and about due to the barriers they face. Disabled people and their families will be supported to access group outings that they plan, enabling people to visit new places, meet new people and potentially make new friends therefore tackling isolation and loneliness.
Enabling disabled people to participate through education, skills, conferences and networking to improve their prospects and support their communities to participate.
The project will gather feedback about people's experiences of travelling and using public transport, locally, regionally or nationally, to identify any common experiences or issues that people are facing and what works well and look at ways of removing barriers and improving services and experiences for disabled people
For more information about the project or if you would like to share your experiences please contact David Thomas on 01325 489999 or email david.thomas@darlingtondisability.org
Roadmap out of Lockdown
04th March 2021
The Prime Minister announced the plans to ease lockdown in England, a few weeks ago, which, by way of reminder, we summarise below. Obviously, the dates are provisional as they may change depending upon the rate of infection.
8th March: All schools reopen for all age groups. Work from home guidance remains unchanged.
29th March: Outdoor sports facilities (e.g. golf courses) reopen.
12th April: Hospitality business can reopen for outdoor service. Non-essential shops can re-open, plus hairdressers, zoos, theme parks, drive in cinemas, libraries, and indoor leisure facilities.
17th May: Pubs, bars, and restaurants reopen for indoor service. Hotels, cinemas, theatres and other businesses can reopen.
21st June: Everything reopens, including nightclubs.
The government will review the need for face masks and social distancing, (which will influence work from home guidance).
PPE for unpaid carers
23rd February 2021
PPE is now available via Local Authorities for those providing unpaid care to someone they do not live with. This offer is available to cover needs for PPE that have arisen due to COVID-19. If you would normally use PPE because of the nature of the care you provide, you should continue to access it through your normal routes.
From the guidance;
https://www.gov.uk/government/publications/coronavirus-covid-19-providing-unpaid-care/guidance-for-those-who-provide-unpaid-care-to-friends-or-family#devolved-administrations
Personal protective equipment (PPE)
The government are currently rolling out an offer of free PPE for COVID-19 needs to unpaid carers who do not live with the person or people they care for. This will be available until the end of June 2021, and will be available from local authorities (LAs) and local resilience forums (LRFs).
See personal protective equipment (PPE): local contacts for providers for details of LAs and LRFs who are currently making PPE available to unpaid carers. You can contact them to request PPE.
This offer is available to cover needs for PPE that have arisen due to COVID-19. If you would normally use PPE because of the nature of the care you provide, you should continue to access it through your normal routes.
If you live with the person or people you care for, it is not currently recommended that you wear PPE unless advised to do so by a healthcare professional, like a GP or nurse.
Recommended PPE for unpaid carers who do not live with the person or people they care for
If you do not live with the person or people you care for, it is recommended that you wear PPE when delivering care.
It is essential that PPE is worn correctly in order to reduce the risk of transmission. PPE should be put on and removed at least 2 metres away from the person you are caring for.
See guidance on how to put on and take off PPE correctly.
The type of PPE you should wear will depend on the type of care you provide. The type of mask you have been given will be clearly stated on the box.