Additional Information & Help
Archived 23rd December 2013
Jacki Hiles RIP
It is with great sadness that DAD has to announce the sudden passing away of our much loved Assistant Chief Executive, Jacki Hiles.
Everyone involved with DAD: Trustees, Staff, Volunteers, Service Users, and Customers send our thoughts, prayers and love to Jacki's husband John, children Rose and Ben and all the family for their devastating loss.
Jacki's passing has hit everyone at DAD so very hard but we will try and do all that we can to help comfort and support her family.
Our Website Editor would like to add his own small tribute:
"Jacki was without doubt the most caring, kindest, selfless and inspirational person I have had the honour and privilege to have been associated with throughout my whole career."
"Many will know Jacki had health problems which she endured for such a long time. However, she always asked about everyone else's problems and issues on meeting or talking to people, whilst her own were quickly dismissed with a wave of a hand, that engaging smile and a "I'm fine but how are you?"
"Her devotion to DAD was exceptional, her wisdom and professionalism irreplaceable and her sense of humour was a special tonic to us at all times. DAD would be nowhere near the organisation we are now if Jacki hadn't been at the forefront for us and we will miss her so much but are so thankful to have been touched by her presence."
"Sleep well ACE. God Bless"
Archived 17th October 2018
DAD invited to the opening of the new B&M Store in Darlington
As part of the opening celebrations, Darlington Association on Disability were invited along as VIP guests for the day and to open the new store.
In addition to opening the store, DAD also received £250 worth of B&M vouchers as a thank you for taking part and for all our work in the local area.
A big thank you to B&M for inviting us to be part of your opening celebrations and for the vouchers!
A huge thank you to Darlington Lions Club for their donation of £3500!
Thank you to Lions President Jenny Lumley, Darlington Lions and all those that have supported their fundraising during the last year.

As one of their nominated charities for the year Darlington Lions have donated an amazing total of £4800 to DAD to support our work with children and young people.

THANK YOU!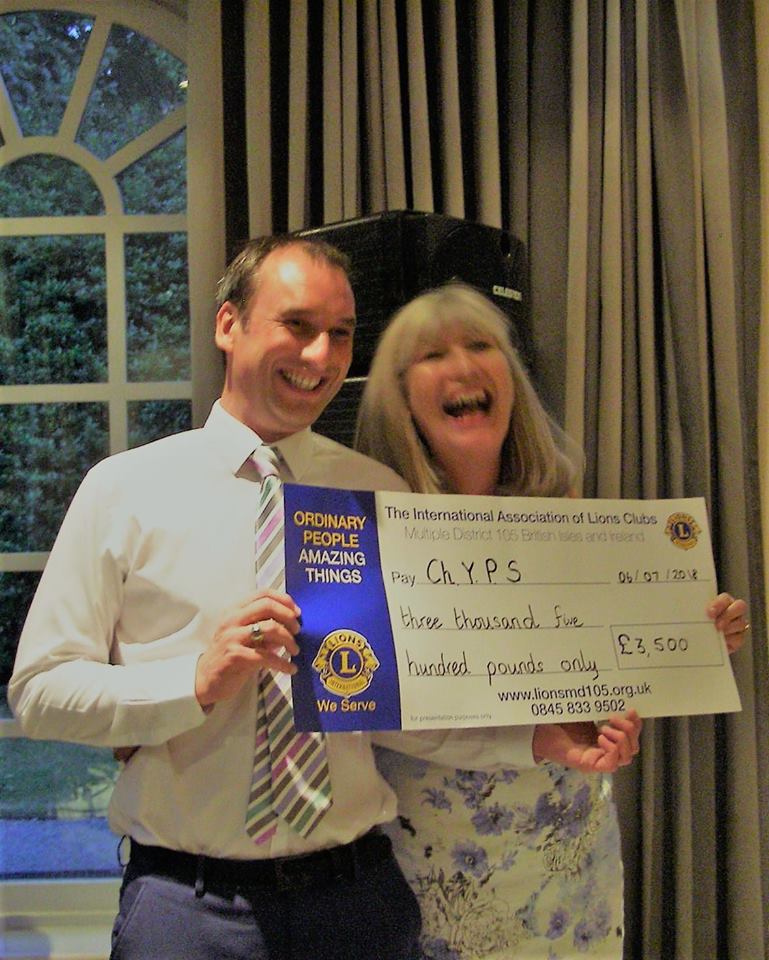 The photo above shows the Lions President Jenny Lumley presenting David Thomas, Co-ordinator of our Children and Young People's Service, with a cheque for £3500.
Archived 4th May 2018
DAD's 30th Anniversary Afternoon Tea
Darlington Association on Disability held a 30th Anniversary Afternoon Tea on Wednesday 12th April at the Dolphin Centre, Darlington.
The Northern Echo published an article about the event which can be viewed here
This event was wholly funded by a Big Lottery Celebrate grant, aiming to bring communities together
Darlington Lions Club Donation
DAD was delighted to receive a donation of £1300 from Darlington Lions Club, to support our work with children and young people.
Jenny Lumley, president of the Lions Club, presented the cheque to our Chairperson, Gordon Pybus and some of the children and young people who use our services.
A big thank you to the Lions Club for the donation, which will be used to deliver Christmas parties for children and young people who attend our DASH play schemes and to Alfie, Oscar, Vinnie and Ethan for their help to accept the cheque.
(Above photo shows Jenny Lumley, Lions Club President, presenting a cheque to Gordon Pybus aided by Alfie,Oscar, Vinnie and Ethan)
Thank you to Asda
DAD was delighted to receive £500 from Asda as we were the winners of the Green Token Scheme at the Whinfield ASDA. Louise Gibson from Asda came to present the cheque. A big thank you goes to Conor Curwen who nominated DAD to be part of the scheme.
(Above photo shows Conor Curwen and staff members receiving the cheque from Louise Gibson outside DAD's office entrance)
TSB Donation
DAD was delighted to receive the first donation from TSB Charity Partners. If you would like to support the staff team's fundraising efforts they are currently running a Christmas Raffle, at the branch in Tubwell Row, in their bid to raise a minimum of £500 for DAD.
(The above photo shows Carole Gatenby, the local Darlington TSB Branch Manager, presenting the cheque to our Chairperson Gordon Pybus)
Fund raising
Blacketts Medical Practice staff have chosen DAD as their charity of the year. The surgery holds an event each month where donations are made. Stacey Allan was pleased to accept a cheque for £93.05 from Dr Umashankar, for the money raised so far.
A big thank you to all at Blacketts!
The above photo shows Stacey Allan receiving the cheque from Dr. Umashankar.
Archived 14th November 2017
New hate crime service acts as the Voice of Victims
A NEW and unique service to support victims of hate crime has launched at an event on July 25th.
The Hate Crime Advocacy Service (HCAS) works directly with victims and witnesses of hate crimes and incidents to help them through the process of prosecution. It can also help them to cope with the crime to which they have been subjected.
Darlington Association on Disability, QuerKey CIC, and Show Racism the Red Card have partnered with Ron Hogg, Police, Crime & Victims' Commissioner for County Durham and Darlington to create this unique advocacy service. By being a buffer between the victims and the various agencies from the Police to the Crown Prosecution Service or the courts, the advocates can enable better experience and outcomes from the criminal justice process.
Ron Hogg said: "Not all victims need an advocate but hate crime victims are more likely to need one. The knowledge and expertise of the three organisations is now available to victims. My intention is that victims should remain at the centre of any prosecution and this project will go a long way to improve how victims of hate crime cope and recover from the experience of crimes targeted at people just because of who they are or what faith they have."
Laws are in place to protect victims of targeted behaviours relating to race, faith, disability, sexual orientation and gender identity. HCAS draws on the expertise of three organisations which offer support for victims of all strands of Hate Crime.
Each agency has expertise in their sector and together they will provide a unique service for victims of crime. Victims of all types of hate crime can benefit from using the service.
Emma Roebuck, Director QuerKey CIC said: "The voice of the victim is seldom heard in the prosecutions of crime. This leaves the victim adrift and without the opportunity to move beyond the crime and back into normal life. This project will give that voice from the point of reporting to beyond the court room."
Lauren Robinson, Chief Executive at Darlington Association on Disability said: "Many disabled people are not aware of Hate Crime but are victims of bullying, name calling and other actions on a daily basis, due to their impairment. This leaves people feeling powerless, isolated, angry or vulnerable. The Hate Crime Advocacy Service will give victims somewhere to turn to where they know they will be listened to. Anyone who feels they have been a victim of Hate Crime will be able to receive support from the service. Speaking to an advocate who has experience of Hate Crime may be all that someone needs to support them to cope."
Olivier Bernard, ex Newcastle player and owner/manager of Durham City Football Club, has worked with Show Racism the Red Card for many years. He said: "I first arrived in the North East in 2000 and was welcomed with open arms. The region is now my home and I love being treated as 'North Easterner'. Since becoming owner of Durham City FC, the people of Durham have been incredibly welcoming too.
"I am really pleased that this new service will now be available to those who have not been as fortunate as me. Hate Crime has no place in our towns and cities and I would strongly encourage everyone to show the same spirit of acceptance towards members of their communities, irrespective of their identity, as they have shown towards me."
Victims or witnesses of a hate crime can obtain free, confidential support by email at: hcasdurham2017@gmail.com or call 01325 267359.
Archived 11th April 2014
Carers Strategies 2013-16
Darlington Borough Council is asking for people's comments on the draft Carers Strategy and Implementation Plan and the draft Young Carers Action Plan for 2013-16.
To view the draft plans, please visit the following links to the PDFs on the Council's website: Links to draft Carers Strategy and Implementation Plan and the draft Young Carers Action Plan for 2013-16
Proposed new legislation for Carers
Carers UK has joined forces with Barbara Keeley MP and a cross party group of MPs to work on a new piece of legislation to support carers.
Barbara Keeley MP has put forward a Private Member's Bill which champions carers. The bill, the Social Care (Local Sufficiency) and Identification of Carers Bill, aims to;
• revolutionise the way that local authorities plan social care services in their areas for people who by services themselves as well as those who rely on council social care services.
• focus on ensuring the right services are planned and developed to help carers struggling to juggle work and caring for ill or disabled loved ones
• create duties on the NHS, schools, colleges and universities to identify carers and signpost then to support and advice.
The bill places a duty on local authorities to conduct an assessment of the social care services available in their area, looking at whether sufficient and relevant care is being made available to disabled people and carers.
The proposed legislation will recognise for the first time the need for carers and disabled people to have the right services in place to allow them to remain in, or join the workforce.
Research last month from Age UK showed that the cost to the Government of carers being forced to give up work to care had reached £5.3 billion in lost tax revenues, lost earnings and increased benefit payments. The Bill reflects the economic imperative to help people juggle work and care and to support disabled people to work.
Archived 24th January 2014
Minister of State for Disabled People's message to stakeholders for the 21st International Day of Disabled People
The theme of the International Day this year is about breaking down the barriers that disabled people face. In his message to stakeholders, Minister of State for Disabled People, Mike Penning, explains how removing barriers and enabling disabled people is at the heart of the Government's approach.
The Minister's statement highlights a number of key areas of work, including:
• The Disability Confident campaign, where government is working in partnership with business and employers to challenge negative attitudes about disability employment
• The Paralympic Legacy where the new Built Environment Professional Education project aims to address the inaccessible building design by encouraging a greater focus on inclusive design in the training of built environment professionals such as architects and town planners
• The second edition of Aspire 2 the on-line magazine aimed at young disabled people, which has the theme of attitudes, perceptions and disability hate crime (see attached PDF).
• The work of the Disability Action Alliance with the Money Advisory Service (MAS) on a new life-event page on the MAS website providing information for people who are ill or disabled. See item on Disability Action Alliance website
Read the Minister's statement in full (PDF, 3 pages, 28KB)
We would also be interested to know what people are doing to mark International Day of Disabled People this year they can e-mail us at fulfilling.potential@dwp.gsi.gov.uk
Archived 26th October 2013
Discrimination against disabled bus travellers
Darlington Association on Disability is supporting a number of disabled people who are being regularly discriminated against by Arriva drivers on a number of bus routes across Darlington. Unfair treatment varies from refusing access to wheelchair users because pushchairs are already onboard to humiliating wheelchair users when they trying to board and alight from the bus.
Arriva has a legal duty not to treat disabled people less favourably than other passengers. Discrimination is not just against wheelchair users. It extends to other disabled people and also to those that travel with them, such as carers or friends.
DAD is aware that this is potentially a much bigger problem and we are appealing for people to come forward who have been similarly mistreated by Arriva. We have asked Unity Law, a specialist firm in disability discrimination cases, to prepare a group legal challenge.
If you are a disabled person or care for a disabled person and have experienced similar problems, please contact Jane at the DAD main office in Horsemarket, phone 01325 489999, text 07624 818780 or email equalaccess@darlingtondisability.org
Please click here to see a Northern Echo article on this situation.
DAD response to judgement in the claim against Arriva for disability discrimination
The following piece was published in the Northern Echo on Thursday 2nd May 2013:
A disabled rights activist has slammed a court hearing which ruled one of the region's largest bus operators had not breached equality laws over wheelchair access.
Gordon Pybus, chairman of the Darlington Association on Disability, has spoken out in support of disabled people who took the Arriva North East to court over claims they had been refused access to Arriva buses because able-bodied passengers had taken the wheelchair spaces.
The county court hearing in Teesside on Wednesday ruled that Arriva North East had not breached the Equality Act, although Judge Peter Bowers did tell the company to make adjustments to ensure wheelchair users are not unduly disadvantaged.
Mr Pybus said the ruling made a mockery of Government legislation introduced more than a decade ago which stipulates that by 2020 all buses, coaches and double deckers must be wheelchair accessible.
He said: "What is the point in making sure that every single bus has wheelchair spaces if the bus companies are under no obligation by law to make sure that those spaces are reserved for wheelchairs, not for buggies and prams?
"We have got to give disabled people and wheelchair users more confidence about using public transport.
"But if you are a wheelchair user and you know there is only one space allocated for you, and if that space is taken by someone else and there's nothing the driver will do about that, how confident are you going to be about taking the bus? Not at all."
One of the measures recommended to Arriva North East by Judge Bowers was to set up a bus hotline for disabled users.
A company spokeswoman said it was too early to say exactly what that service would entail, but Mr Pybus is angry that a hotline has even been suggested.
"No other bus user is expected to ring a bus before they get on it, it is ridiculous to expect wheelchair users to have to," he said.
A spokeswoman for Arriva said the company had no further comment to make, other than a statement released by managing director Nigel Featham after the judgement was announced.
Mr Featham said the company welcomed the judgement, but was disappointed that the matter had reached court.
He added: "We are always open and willing to discuss issues affecting people with disabilities to help make public transport even more accessible wherever possible."
Archived 17th July 2012
Better Health at Work Award
Following on from last year's Better Health at Work Award, DAD were delighted to have achieved the Bronze award and are now aiming for the Silver award. There were two presentation evenings as this award was also recognised by Darlington Investors in Health.
(Above photo shows Sheila, Tracey, Margaret and Lauren receiving the award from Ada Burns, Chief Executive of Darlington Borough Council).
The second evening was held at Ramside Hall (above photo shows Margaret, Sheila and Tracey being presented with DAD's award from Dame Carol Black, National Director for Health and Work).
This award has been specifically designed to reward employers and recognise their efforts in improving the health and wellbeing of their employees as well as contributing towards creating healthier workplaces and organisations.
Archived 19th June 2012
Position statement on Local Authority cuts
DAD recognises that Darlington Borough Council, in common with other Councils throughout the UK is having to make difficult decisions about future spending on services.
DAD feels that disabled people and carers are being unfairly caught up in the Local Authority cuts. Disabled people are part of the general public and are getting hit by cuts but if cuts are made to disabled peoples' services then disabled people and carers will be hit twice. DAD believes there should be no cuts to disabled peoples' services.
However DAD is also working to make sure that Darlington Borough Council carries out its duties legally by ensuring that disabled people are fully involved in decision making through the Disability Impact assessment process.
The process should involve not just identifying and minimising negative impacts on disabled people, but also in some instances, where the negative impact will be particularly large, avoiding the impact altogether by not making changes.
If you are not sure how the proposed budget cuts may affect you think about all the services that you use now, including adult services and community services such as the library, public transport. If they were cut back, how would it affect you as a disabled person or carer?
We urge disabled people and carers to get involved in the Disability Impact assessment process. You can do this for example by attending meetings where budget proposals are being discussed, by responding to requests from people assessing impacts for information about your use of services, or by giving your comments to the Borough Council.
To ask the Council for more information about the proposals, or to tell them how the proposals affect you telephone the Connecting with Communities Team, telephone 01325 388244, e-mail connecting@darlington.gov.uk, SMS Text 07852 715241
If you would like to get more involved with the impact assessment process contact Mary Hall from the Connecting with Communities Team, telephone 01325 388676
If you need support from DAD to identify how the cuts may affect you or to express your views, contact DAD, telephone 01325 489999, e-mail info@darlingtondisability.org, or text us on 07583 592824
Archived 12th April 2012
DAD's 25 Years
On Monday 14th November 2011, David Roberts, the Northern Echo's Chief Darlington reporter wrote an excellent article about our 25 years which can be read here
Darlington Association on Disability (DAD) was established in 1986 and in 2011 celebrated its 25th Anniversary.
Childcare Centre helps DAD
Kerry Stevenson, Childcare Centre Coordinator, Darlington College Childcare Centre recently visited DAD's office, with other staff and children, to present a cheque for the fantastic sum of £286.12 that the children had raised at the Childcare Centre. The children sold bricks on 'Humpty dumpty's wall' to parents/carers and visitors in order to try and win prizes and they also did a fancy dress sponsored walk to raise the money.
DAD really appreciates the support and it's great to see fundraising starting at such a young age.

(DAD Chair Gordon Pybus receiving cheque from one of the Childcare Centre's fantastic fund raisers)
Archived 17th August 2011
DAD are delighted to congratulate our Chair, Gordon Pybus, on his Citizen of the Year and Contribution to the Community awards. Gordon has kindly donated his £100 prize money to DAD. Further details can be found on this Northern Echo website page.
(Gordon Pybus receiving his Citizen of the Year Award from Mayor Councillor Brain Thistlethwaite)
Investing in Children
Archived 22nd June 2011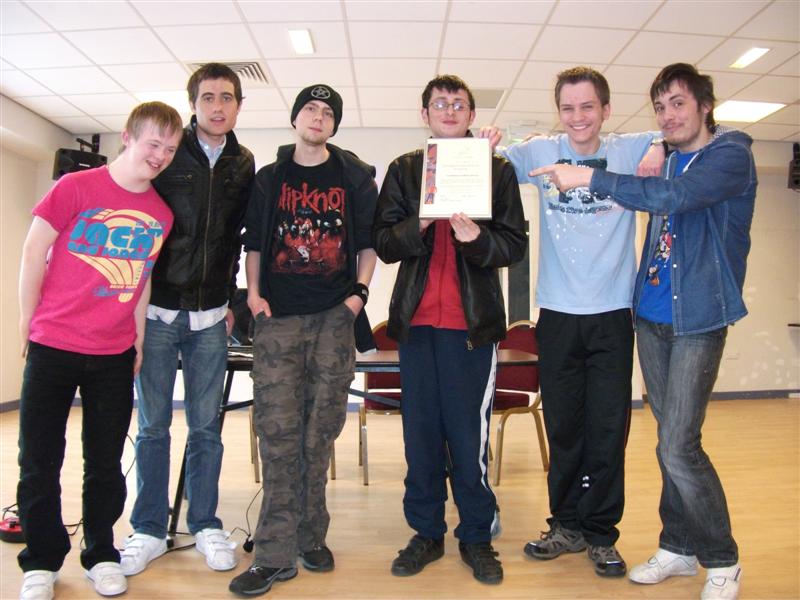 (Young Leaders at the Youth Forum being presented with the certificate for DAD in recognition of Investing in Children)
Investing in Children is concerned with the human rights of children and young people. In particular, Investing in Children works to ensure that children and young people have a voice, and are able to influence the services they use.
DAD has demonstrated, to the satisfaction of the young people/children who use the service that they have been involved in dialogue, and change has come about as a result. The Young Leaders have been involved in the consultation process which involved completing a chart of evidence of children and young people's participation and meeting with the Investing in Children team.
This led to a report being completed recommending DAD for Investing in Children status. The certificate was presented to the Young Leaders at the Youth Forum on Saturday 19th March, who were pleased to see the results of their voices being heard.
2009 Annual General Meeting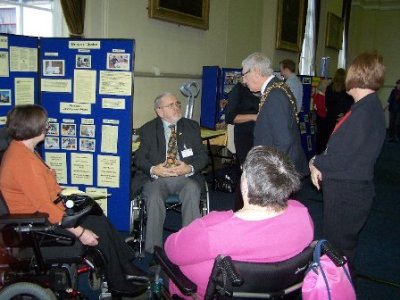 (Cllr Jim Ruck and DAD Chief Executive Lauren Robinson chatting to DAD members)
This year's DAD Annual Event took place on Thursday 19th November in the Dolphin Centre and was opened by the Mayor of Darlington, Councillor Jim Ruck. It was well attended and there was a variety of information stands set up from various organisations for people to browse including stands from each of DAD's projects.
The first guest speaker was Vidar Hjardeng, Equalities Lead of ITV who presented discussion on diversity in the media. The second, Mark Humble, Head of Transformation at Darlington Borough Council presented the current position of personalisation and transformation.
After lunch the Annual Meeting took place including a speech from Chair, Gordon Pybus and Chief Executive Lauren Robinson who said "DAD is a user led organisation which is critical to the transformation of Social Care. We have raised awareness of the services we provide for 20 years. DAD can improve and we want to be inclusive as possible, across all groups. DAD is involved in all work streams of the personalisation agenda, please raise awareness of DAD. We look forward to another successful year ahead. Thank you for all of your support."
The Annual Report for 2009, together with Word and PDF versions, has been added to the Annual Reports page.
Darlington Access for All Award 2008
Archived 21st July 2009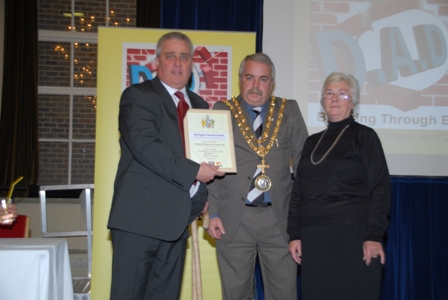 (Cllr Ian Haszeldine presenting award to Darlington Mencap Society Gateway Club)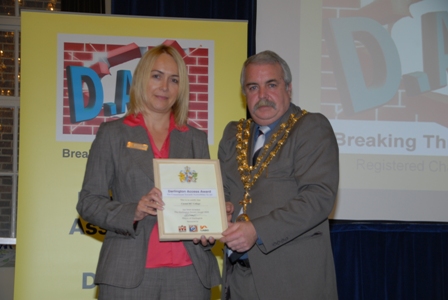 (Cllr Ian Haszeldine presenting award to Carmel RC College)
Darlington Association on Disability in partnership with Darlington Borough Council held the 'Darlington Access for All Award' event. The Mayor of Darlington Cllr Ian Haszeldine presented the award at D.A.D's annual meeting on the 20th November in the Central Hall at the Dolphin Centre. The voluntary sector winner was Darlington Mencap Society Gateway Club and the non-voluntary sector winner was Carmel RC College. A Highly Commended went to Darlington Social Club for the Blind and Visually Impaired. Also Commended were the Health Care Dental practice in Parkplace, Grange Road Baptist Church , National Childminding Association and Darlington Early Years Service.
"The award is to recognise a business or organisation that has taken that extra step in improving access for all disabled people by eliminating physical and attitude barriers and I congratulate them all for there efforts and achievements".
Gordon Pybus
Chair, Darlington Association on Disability
Aiming High for Disabled Children
Archived 21st July 2009
DAD's Annual Members Meeting was held on Thursday 20th November 2008. The theme of the event was Disabled Children and Young People. We were delighted to be host to our keynote speaker Mrs. Alison John - Inclusive Play Consultant, who gave a presentation on Aiming High for Disabled Children. The Keynote Speech included references to Aiming High for Disabled Children, Every Disabled Child Matters and 'The Core Offer.'
Change for DAD
Archived 21st July 2009
As a charity, DAD is led by an executive committee made up of trustees, the majority of whom are disabled people. The committee recently took the decision, endorsed by members, to become a company limited by guarantee. This is likely to place DAD in a better position to attract funding; incorporating will also safeguard our trustees. We are still a charity, although our charity number has changed to 1125848. The organisation will not become DAD limited; and for the most part people outside DAD will not notice that anything has changed.
The Charity Commission have recently revised their guidelines on what can be included in a Charity's objectives. As part of the process of incorporation trustees also took the opportunity to revise DAD's constitution slightly to ensure that it reflects DAD's mission statement and its commitment to the Social Model of Disability.
If you are a member, or are thinking about becoming a member, and would like more information about incorporation and how it might affect you, please get in touch with DAD's Chief Executive, Lauren Robinson. She can be contacted by telephone 01325 489999, by e-mail lauren@darlingtondisability.org or by calling in to our office at 20-22 Horsemarket, Darlington.
Charity Award
Archived 21st July 2009
We are delighted and very proud to announce that DAD was recently awarded 'Disability Charity of the Year' at the 2008 County Durham and Tees Valley Charity awards. The person nominating DAD commented on the wide ranging work that the organisation does, and the way that the DAD successfully reaches so many people. Competition was stiff, and we were pleased that the efforts of our staff, volunteers, members and supporters were recognised. Link to Awards Ceremony shows the various awards being made. Lauren, our Chief Executive, can be seen receiving our award approximately 1 minute and 10 seconds into the clip!
21st Anniversary
Archived 7th October 2008
D.A.D. is now celebrating its 21st anniversary and the theme for the year is to actively promote Independent Living. The launch of the 21st Anniversary Year together with the Access Awards Ceremony and the D.A.D. Annual General Meeting was held at the Central Hall in the Dolphin Centre on Thursday 22nd November 2007.
The 2007 Annual Report has now been released and the very first Annual Report is also available in the History section, we hope you enjoy reading about D.A.D.'s first year.
Winners of Darlington 2007 Access for All Award
Archived 24th April 2008
There were two winners of the Darlington Access for All Award 2007, who were presented with their awards by the Mayor of Darlington, Cllr Marian Swift and Richard Collinson, Darlington Borough Council's Building Control Manager at a ceremony staged by Darlington Association on Disability in partnership with Darlington Borough Council on Thursday 22nd November 2007. Darlington Civic Theatre won the award for large organisations and Skerne Park Children's Centre/Parkside Nursery were the winners of the award for smaller organisations.
The judges were impressed with all the finalists and awarded a Highly Commended to J & P Travel and a Commended to Lloyds TSB (Skinnergate), Barclays Bank (Cockerton) and Branksome Social Club.
The awards were made to the business or organisation that has demonstrated a commitment to ensure that their building or open space is accessible to all and that their organisation's culture embraces accessibility in all of its forms.
This is a lot more than ramps at doorways or minimum building requirements; it's about improving access for all disabled people by eliminating physical and attitude barriers. This award is to recognise a business or organisation that has taken that extra step.
Equipment Presentation
Archived 7th March 2008
On Monday 19th November 2007 Shopmobility was formally presented with new equipment by Cllr David Lyonette, Cabinet Member for Highways and Transport, the new equipment which included two electric scooters and two manual wheelchairs was funded by Darlington Borough Council.
Shopmobility has been open since December 1993 and is provided by Darlington Association on Disability in partnership with Darlington Borough Council, the service provides the free loan of Electric Scooters and wheelchairs for anyone with a mobility impairment to shop and use the facilities of Darlington Town Centre independently.
Gordon Pybus, Chair of Darlington Association on Disability said "Once again we are extremely grateful to Darlington Borough Council for the funding to purchase this equipment, the feedback we get from Shopmobility customers on how much they rely on the scheme for accessing the Town Centre demonstrates the importance of good quality and reliable equipment."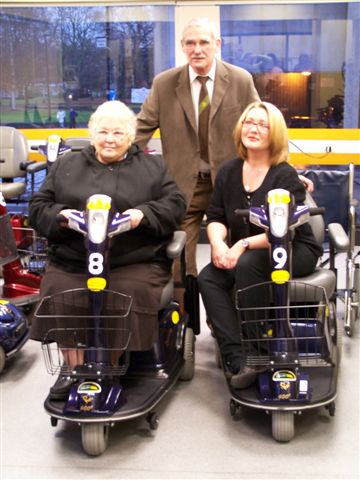 (Mrs Pounder and Joanna accepting the scooters from Cllr Lyonette)
The Disability Debate
Archived 19th November 2007 (Due to be re-written soon)
The Disability Rights Commission DRC is launching a major new initiative - The Disability Debate. The discussion paper: 'Shaping the future of equality', sets out what the DRC believe are some of the major issues facing disabled people in 2005, and the potential challenges of the future. Over the summer they will host a series of 'debating points' covering issues such as risk, welfare and work, the role of professionals in disabled people's lives, and whether it is still right that some disabled people live, learn and work in places which separate them from the wider community. They will also provide opportunities for disabled people to discuss the issues directly with those with the power to bring about change.
Great North Walk
Archived 3rd August 2007
Kim (Volunteer) and Geraldine (Recruitment Support Worker) both completed the Great North Walk on Sunday 15th July and all sponsorship money received is being kindly donated to D.A.D. Please visit their Justgiving page to make a donation and for more information.
Ken's 10,000 Steps
Archived 4th July 2007
Ken Hill is raising money for Darlington's carers as a forerunner to Carers' Week. On June 3rd he walked 10,000 steps (roughly three miles) with colleagues Pauline Gill, Pat Thompson and Rob Bateman. Further details on how to still sponsor Ken and help reach the £500 target are on the latest Carer Support Service Newsletter or go direct to Ken's Justgiving page.
Winner of Access for All Award
Archived 15th June 2007

(Mayor of Darlington, Cllr Eleanor Lister presenting Access for All Award to The Education Village.)
Representatives from The Education Village, winners of the Darlington Access for All Award 2006, were presented with an award by the Mayor of Darlington, Cllr Eleanor Lister at a ceremony staged by Darlington Association on Disability in partnership with Darlington Borough Council. The Award which is made to the business or organisation that has demonstrated a commitment to ensure that their building or open space is accessible to all and that their organisation's culture embraces accessibility in all of its forms.
The judges felt the Education Village building, ethos and staff attitude all fitted the criteria needed to be a worthy winner.
Thirty-five nominations were received and judging was not easy. The judges were impressed with all the finalists and awarded a Highly Commended to the Civic Theatre, Forum Music Centre, Coleridge Centre and the Childcare Centre at Darlington College all who had demonstrated that it takes more than an accessible building to deliver an accessible service for disabled people.
'Let's all Play!' Inclusive Play Training Course
Archived 15th June 2007
Introduces the principles of inclusion, teaches the basics of inclusive play and suggests a variety of games that can be used and adapted for all children.
Who is this training suitable for?
Playworkers, holiday scheme workers, volunteers, childcare and youth workers etc.
Length of training: 5 hours
Level of training:
Endorsed by Skills Active at introductory level. Provides some knowledge towards Playwork NVQ Level 2.
Cost of training: FREE
Dates & Venue:
Thursday 07th June 07 - Blackwell Meadows Rugby Club
Saturday 16th June 07 - Blackwell Meadows Rugby Club
If you feel that attending the Let's all Play training would be beneficial to yourself and your setting, please read on....
'Let's all Play!' is an introduction to inclusive play
The course aims are:
• Develop student confidence
• Increase student knowledge of games
• Introduce the principles of inclusion
• Offer ways of overcoming barriers to inclusion in the workplace
Objectives:
Students will understand the principles of inclusion. The course looks at the social model of disability, the assumption and values of play, legislation and language and explores ways to overcome possible barriers to inclusion through games. It includes confidence building for new and inexperienced Playworkers, volunteers and occasional workers as well as a team building opportunity for organisations with large staff teams who seek to include disabled children in their settings.
The rights of disabled children to access local play provision are becoming more widely recognised and accepted as good playwork practice. Many children's play and leisure services are more confident to offer inclusive provision but still recognise that face to face play workers, particularly volunteers, occasional and short term workers may lack confidence and knowledge in relation to inclusion.
Additionally there is an ongoing increase in demand from the playwork profession for games and practical play activities that reflect inclusiveness.
Kids NDD has developed Let's all Play as an introductory inclusive playwork training course. Endorsed by SkillsActive at Entry Level, it also has links to National Occupational Standards related to the NVQ Level 2 (these are outlined on the certificate the student receives after the course has taken place).
Each participant will take away from the course:
• Let's all Play! Workbook to refer to when back at setting
• Kids NDD PIP News and support materials
Equality and Diversity Conference
Archived 24th May 2007
DAD is holding an Equality and Diversity Conference on Wednesday 23rd May 2007, 9.30am - 4.30pm in the Central Hall of the Dolphin Centre, Horsemarket, Darlington.
The conference which will cover the 6 equality strands, is free of charge to partners in the voluntary sector and aims to:
• raise awareness of equality issues, particularly in relation to working in the voluntary sector.
• identify actions that voluntary organisations can take in the short and longer term to improve equality for employees and service users.
• identify issues that voluntary sector organisations in Darlington could work on together to improve equality.
DAD is organising the conference as part of its commitment to the Gold Star Exemplar Programme, which is a national initiative to promote and share good practice in recruiting and supporting volunteers from marginalised and under-represented groups. DAD has been awarded funding from Gold Star for its positive work with disabled people.
Wheelygood is an Award Winner
Archived 28th March 2007
The Wheelygood website, www.wheelygood.org, was recently nominated for the Institute of Highways and Transportation (IHT) Accessibility Award 2006, sponsored by MRC McLean Hazel. This award recognises improvements in accessible transportation services and infrastructure to the benefit of disabled people.
D.A.D. is pleased to announce that they were the winners of the award.
The site, which was developed in partnership with Darlington Borough Council, is an interactive map providing full accessibility information on the central area of Darlington, including wheelchair accessible routes, audio loops, and access to shops, businesses and public buildings.
The Criteria for the award was:
Understanding the needs of different users.
Usage levels and behavioural effects of the service/infrastructure.
Benefits to users (including increased mobility and safety).
Implementation (management, operation, communications).
Objectives met.
Innovation.
Best value and cost-benefit.
Compatibility with the surrounding environment / situation.
Sustainability.
Judges comments from the IHT:
"All three short listed entries are excellent initiatives that represent best practice and deserve to be widely copied. Any one of them would be a worthy winner. But after much deliberation, the assessors decided on the Darlington Association for Disability and Darlington Borough Council entry for the whole package of activities, from physical improvements to accessibility in the town centre and on the routes to the centre. Also commendable is their operation of the steadily growing Shopmobility scheme that is evolving to match the requirements of its users and the provision of a wide range of information on accessibility on the website, www.wheelygood.org (though the pun could have cost them the award!). The site is really easy to use and informative - we encourage you to try it for yourself."
A picture of Chris Thwaites, Project Co-ordinator at DAD receiving the award from Martin Bell.