Annual Report 1987-1988
Editor's comment
To celebrate D.A.D.'s 21st anniversary in November we have dusted off our very first Annual Report, which is reproduced below.
The logo from the original front cover was 'cutting edge', (we thought) as it is aimed to portray something that included everyone. The national symbols representing specific impairments have stood the test of time, fortunately the 'stick figure' has not!
Language has also changed significantly in the last twenty years. Promoting the Social Model of Disability, as D.A.D. has done for many years, has changed our approach dramatically and we sincerely hope that anyone reading the report now will take it as a document of its time and will not be offended by it.
The importance of volunteers to the organisation is very evident from those very first few embryonic months and some of the same individuals still dedicate many hours of their time to D.A.D.'s work.
Hopefully reading this report will demonstrate how far we have come as an organisation and how things have changed for the better for disabled people in Darlington.
Annual Report 1987-1988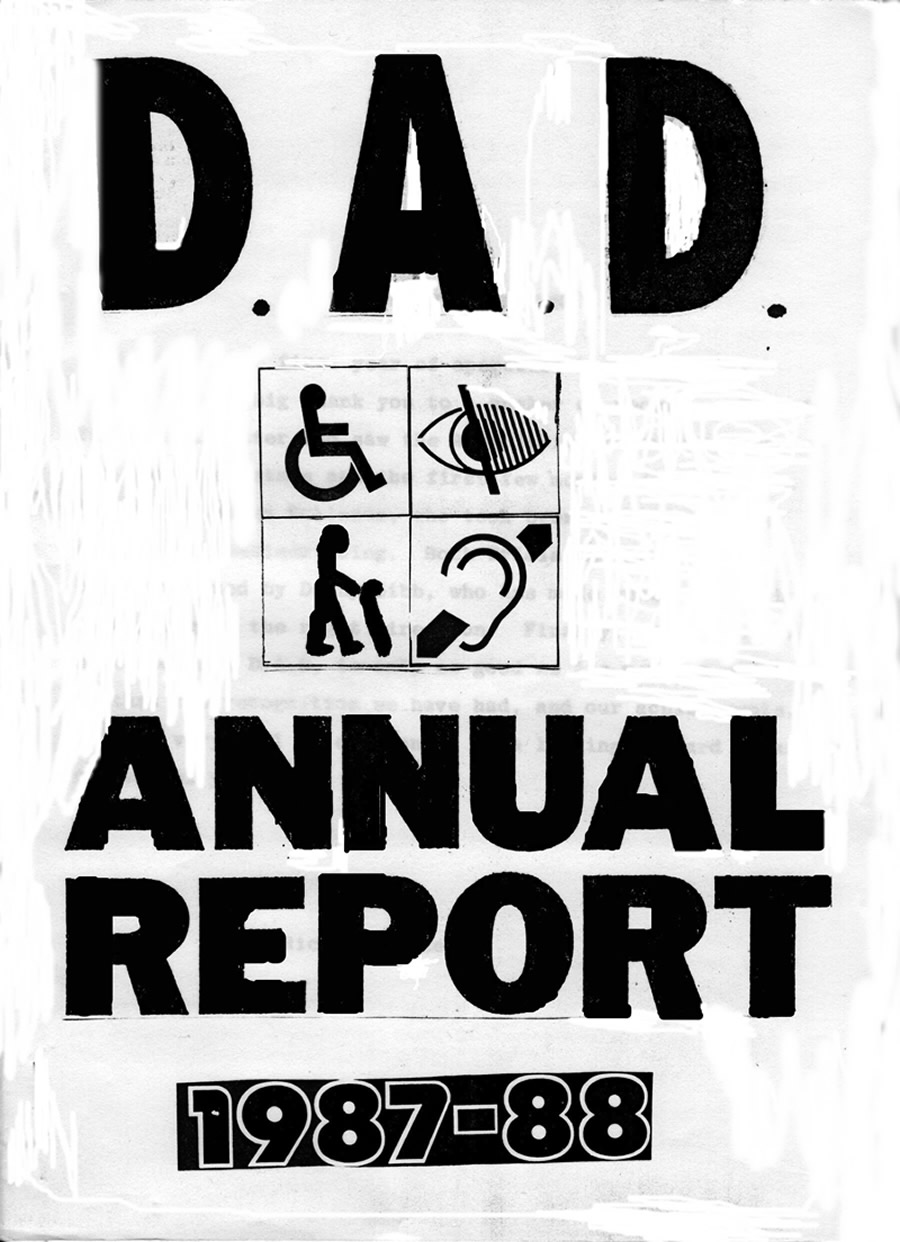 Chairman's Introduction
A review of our first year of operation has shown that D.A.D. owes a big thank you to a number of people. Firstly, Tricia McAllister who saw the Association through the steering committee stage and the first few months of formation. Secondly, Lauren Robinson, who took over so well and has kept the enthusiasm going. Both Tricia and Lauren have been supported by Danny Gibb, who has made sure that we have kept going in the right direction. Finally, it must be remembered that D.A.D. is only as good as its members and helpers so that the recognition we have had, and our achievements, reflect very well on everyone. I am looking forward to another successful year.
Richard Parker
Contents
Background
Volunteers
Respite Care and Home Support
Shopmobility
Transport
Information and Advice
Referrals
Fundraising
Social Evenings
Playscheme
Calendar
Member Organisations Affiliated to D.A.D.
Background
In the early part of 1986 the Durham County Association for the disabled was successful in obtaining a D.H.S.S., grant from the "Opportunities for Volunteering" funding in order to appoint a Development Officer for the Darlington and Teesdale area of the County.
The remit of the Development Officer was to develop services for the disabled and their carers, on a voluntary basis. These services were to be aimed at improving the quality of life and promoting the integration and independence of disabled people.
It was hoped that these aims would be encompassed by the formation of a local association for the disabled, and to this end a public meeting was held in March 1986 and a Steering Committee established.
The primary function of this Steering Committee was to bring together people from all backgrounds, all disabilities, and representatives of various statutory and voluntary organisations in order to identify the needs of disabled people and their carers in Darlington.
Meeting of the Steering Committee discussed the many issues which affect disabled people and their families and high lighted areas where facilities and service provisions were sadly lacking, such as respite care, sitting services, day care and transport.
Following interviews with individual disabled people it became apparent that the priorities were to break down the barriers that exist between disabled and able bodied people. Access mobility, employment, housing and health were all pinpointed as being areas where disabled people should have a bigger say. The importance of independence and social integration were continually stressed.
Following months of hard work, commitment and planning Darlington Association on Disability adopted its constitution on the 4th November, 1986 and elected its Committee.
The Darlington Volunteer Project
Volunteers
The project has worked closely with D.A.D., throughout the year in order to establish practical Services for disabled people and their families. We consider that one of the major achievements of the project has been in the recruitment of disabled volunteers for a variety of tasks, such as clerical work in the office, planning and assisting with fundraising events, giving advice and information and acting as disabled surveyors on our Access Survey.
Volunteers participate in ongoing training, according to the services they are involved in providing. This is particularly important for those involved in respite care and sitting work. We are very fortunate to have the services of a Registered Nurse, with experience in this field, who acts as our training coordinator.
The training aspect of the project has been two-fold, not only benefitting the people who receive our help, but also providing volunteers with the opportunity to learn new skills as the majority of our volunteers are unemployed, this experience has proved to be valuable in obtaining employment.
As a direct result of their work with the project, two of our volunteers have obtained jobs, and we will continue to encourage both disabled and able bodied volunteers to take up appropriate training and employment.
Respite Care and Home Support
Trained volunteers are provided to assist in peoples' houses, either relieving the carer or supporting individual disabled people in their own homes in order to maintain independent living in the community, and prevent admission to residential care.
A variety of tasks are undertaken by volunteers and range from keeping someone company whilst their carer goes out, assisting with personal tasks such as preparing a meal or putting someone to bed.
Our priority is to provide assistance when Statutory Services, i.e. District Nurse, Home Help are not available or not appropriate to meet an individuals needs.
D.A.D. is currently involved in setting up a Steering Committee to establish a Crossroad Care Attendant Scheme in Darlington.
Shopmobility
The project offers transport, wheelchairs and escorts on a regular basis in order that disabled people may shop as independently as possible.
We hope to expand this scheme over the next twelve months particularly with a view to assisting blind and partially sighted shoppers.
D.A.D. has also contacted the developers of the new shopping precinct in Darlington, with a view to having a permanent Shopmobility base in order that disabled shoppers can be collected from their cars and loan wheelchairs to use whilst shopping.
Transport
Volunteer drivers are available on a regular basis to assist with mobility problems. Visits to out-patients clinics, dentists, doctors etc. pose an enormous problem for people with disability and therefore requests for transport are frequent, particularily during holiday times.
However, there are a large percentage of people for whom getting in and out of a car is difficult and therefore D.A.D. is supporting efforts to organise a Dial-a-Ride scheme to cover the Darlington District.
Information and Advice
D.A.D.'s office is open from 9.00 a.m., to 4.00 p.m., and staff are available to provide information and advice.
We keep a library of information on subjects such as holidays, training, employment, housing, access, benefits, local and national organisations.
A regular monthly newsletter is published with information about our association and issues affecting disabled people. We welcome items from other organisations about their work.
Referrals
Requests for assistance from the Volunteer Project come from a variety of sources, such as G.P's, district nurses, wardens and home helps. However, the majority of referrals over the last twelve months have come through either Social Services Department or the Council for Voluntary Service and others have been referred by relative and friends.
Below is an analysis of requests and referrals received in the last quarter.
Referrals and Requests - July 1987 to October 1987.
Respite Care and Home Support 22%
Shopmobility 8%
Escorting 8%
Transport 18%
Holidays 8%
Housing 3%
Visiting 5%
Information 28%
Source of Referral
District Social Services 31%
Hospital Social Worker 18%
Council for Voluntary Service 19%
Relative or Self 32%
Fundraising
Our income for this first year has come through the efforts of our Fundraising Sub-Committee who have raised over £1,000 in approximately six months, from a variety of sources such as flag days, coffee mornings, jumble sales etc.
Perhaps the hardest money we raised during the year was in September, with a sponsored wheelchair push from Darlington to Hurworth, which was a great success but hard work for the pushers! Certainly the easiest money raised was a fantastic anonymous donation of £2,000 at the beginning of the year which got us off to a magnificent start.
Social Evenings
Our monthly Social Evenings have been a great success, a chance for all our members and volunteers to get together on a regular basis.
The Arts Centre was our original venue and now the Darlington Rugby Club has very kindly made us welcome in their premises.
Plans for next years calendar are already under way to include trips to the theatre, day trips etc.
Playscheme for Handicapped Children
D.A.D. was approached for assistance in organising and undertaking administration for this year's Playscheme, as the small committee felt that they could not undertake to run the Play scheme on their own.
Calendar
26th March 1986
Public Meeting and Inauguration of Darlington Steering Group.
May 1986
Commencement of first meeting of Steering Committee and proposals of services required for the disabled in the Darlington Area.
June 1986
Adoption of the name Darlington Association on Disability and structure of the Constitution. First Social evening for disabled and able bodied held at the Arts Centre.
July 1986
Talk by K. Bell, Keighley Association for the Disabled. Constitution drafted and forwarded to Charities Commission. Attended Welfare Rights Fair. Volunteer recruitment started.
August 1986
Talk by Richard Woods, Centre for Integrated Living, Derbyshire. Search for accessible premises for Darlington Volunteer Project. Shopmobility project supported by Occupational Therapist - referrals awaited. Training Course for Committee Members.
September 1986
Playscheme for Handicapped Children approached D.A.D. for assistance. Talk by George Kerswell, National Elfrida Rathbone Society. Moved into Walkington House premises. Appointment of Administration Assistant funded by Charities Initiative.
October 1986
Acceptance of Constitution by Charities Commission. D.C.A.D purchase four wheelchairs for Shopmobility. Plans made for possible Access Survey.
November 1986
Kathy Kash, Secretary B.C.O.D.P. speaker at Public Meeting Adoption of the Constitution and election of Chairperson, Vice Chairperson, Treasurer and Secretary. Access Awareness Day opened by the Mayor - local dignatories participated. Talk by Mr. Bert Massie, Assistant Director of R.A.D.A.R. , on Tom Clark Disabled Persons Act.
December 1986
The Executive Committee came together to discuss the Constitution and majority representation of disabled members. Received £500, starter grant from R.A.D.A.R. Mr. J. Hoard appointed as representative on Access Action Group.
January 1987
Fundraising Sub-Committee organised Jumble Sale and Coffee Morning. Charity Celebrity Snooker match held with Bernie Clifton and the Chuckle Brothers, Darlington Football Club Manager and other local celebrities play in aid of the Playscheme. Received £2,000, anonymous donation. Volunteers to attend Sign Language Course. Attended Holiday Fair at Dolphin Centre - large take up of information and follow up enquiries.
February 1987
Charity Stalls on Market Place in aid of the Playscheme and D.A.D. Appeal letters issued for Playscheme funding.
March 1987
Miss Heward appointed to Town Twinning Association. Attended Payroll giving conference. Introduction of Newsletter to circulate information.
April 1987
Public Meeting is held on Payroll Giving and video package shown. D.A.D.'s first newsletter is issued and is welcomed. Flag day in aid of Playscheme raised £192. Survey of dropped kerbs following request from Durham County Council.
May 1987
Contact is made from several groups including Disabled Women's Guild and Darlington Multiple Sclerosis to affiliate. M.S.C/R.A.D.A.R. approval to employ a Part-time Secretarial Assistant for D.A.D. and a Part-time Access Information Officer/Co-ordinator. Flag days in aid of D.A.D. raised £620.
June 1987
Ms. McAllister resigned as Development Officer, Miss Robinson appointed. Darlington Borough Council asked for D.A.D.'s comments on parking around Market Place. Volunteer recruitment for the Playscheme. Affiliation approved National Federation of the Blind. Members visit Naidex Exhibition in Manchester.
July 1987
Miss J. McCrone appointed as Access Officer. Miss L. Robinson elected as Secretary to D.A.D. D.A.D. host the Northern Advisory Group on Disability A.G.M. at the Dolphin Centre. Consultation with Darlington Borough Council re: disabled parking in the town and High Row ramp. Access Sub-Committee appointed. Welfare Rights Fair attended at St. Cuthberts. Plans made for pilot Access Survey in Cockerton. Talk from Mr. T. Milner - Darlington Borough Council Access Officer. Playscheme held for three weeks at Salters Lane School.
August 1987
D.A.D. support a possible Dial-a-Ride Scheme and are represented on the Committee. Approval from M.S.C. for the Rathbone Society to help with Access Survey. Social evening to be held at the Rugby Club. Regular monthly Coffee Mornings to be held in Regent House Basement.
September 1987
Access Survey started - Disabled surveyors and Rathbone Society escorts go out on a daily basis. Mr. Richard Parker resigns as Chairman. Sponsored Wheelchair push from Darlington to Hurworth.
October 1987
D.A.D. appointed representative to Crossroads Steering Committee. Clothes party raised money for software to use on C.V.S. computer for Access Survey.
Member Organisations Affiliated to D.A.D. 1986 - 1987
The British Sports Association for the Disabled
The Council for Voluntary Service
The Disabled Women's Guild
Durham County Association for the Disabled
MIND
The Multiple Sclerosis Society
The National Federation for the Blind (Darlington)
The National Association for Handicapped Students
The Parents Support Club
The PHAB Club
The Rathbone Society
The Social Club for the Blind
Social Services Department